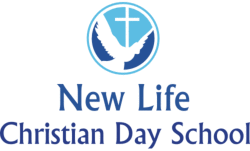 Grades Kindergarten through Eighth
PO Box 300, 205 Avenue G, Matamoras, Pennsylvania, 18336
The New Life Christian Day School staff is made up of dedicated Christian educators. We seek to treat each student with kindness and to share God's love with every family at our school. We educate to the highest possible academic standard.
​
Offering the Support that Students Need
We have a fantastic team of caring and supportive instructors. All New Life Christian Day School staff are passionate about making a difference in students lives, through their tireless dedication and drive to shape the human mind. Get to know our committed team and their role in continuing our tradition of academic excellence.
I love teaching at New Life Christian because I love knowing that I may have an eternal impact on a child's life. It's also exciting for me to see how much each child has grown and learned by the end of each school year. Proverbs 3:5-6 are favorite verses.
​
Michelle has been a committed substitute for the school for several years now. This will be her first year as a full-time teacher. With her cheerful and fun disposition, we know that her students will look forward to coming to school every day.
Mrs. Stoll has been teaching at New Life for over 30 years. She loves her students and works very hard to make sure each child masters the necessary skills needed for promotion.
Mrs. Polarski is the newest member of our teaching staff. Besides being a fantastic educator, she brings joy and kindness that radiates throughout the school.
Teacher: 3rd & 4th History/Science
Mrs. Bonham has been an educator for over 40 years. We have been blessed to have Mrs. Bonham come out of retirement to share her knowledge and love for the Lord with our students for more than a decade now
Mrs. Butler is a former New Life student and is a current parent to 3 children at the school. She has been teaching and helping at the school for the past 20 years. Her passion is to push her students to do more than they think they can and to see their own value.
Mrs. Whitley is the founder of the school and the school's director and principal. Mrs. Whiltley has been sharing her knowledge of not only school subjects but of the scriptures for over 30 years. She is the glue that holds our school together
Teacher: Spanish 6th, 7th, and 8th
Carole has been teaching our older students Spanish for many years now. We are thrilled that she will be returning to the school this year to continue blessing our students with her knowledge of the Spanish language.